About Kalaimagal Kalvi Nilayam
Kalaimagal Kalvi Nilayam in Erode, is a beacon light in Tamil Nadu lighting up the lives of thousands of girl students belonging to the middleclass families and families below poverty level. Having 6360 children on rolls today with 220 teachers, its tremendous growth during 67 years from 1945 with 77 children and 2 teachers is quite amazing.
Founder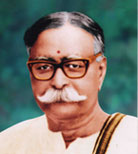 The Founder, Sri S Meenakshisundaram, B.A.LT, Municipal Chairman of Erode (1952-1955), was an Educationist of eminence, stalwart in the Education Field and excelled in his innovative ideas about education which gave birth to this Institution through which his dreams about Education in its true sense are coming into shape. The Founder was fondly addressed as 'Ayyah' by not only the students but by the citizens of Erode also. His majestic personality clad in white dhoti and jibba created a dignified awesome appearance to all around him.
Being a voracious reader, the children and teachers adored him as a mobile library. He was a scholar par excellence. He was a versatile orator both in Tamil and English and was called 'Irumozhi Sorkondal'.He pursued his doctrine of harmony of the head, heart and hand. Through a program of enriched education, he aimed at giving children all-round development of body, mind and soul.
He dedicated the Nilayam to the Public of Erode, creating a Public Trust of 7 members, namely "Kalaimagal Kalvi Nilayam Managing Committee" (110/72) registered under Societies Act in 1972.
---
Successors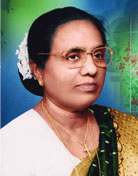 After his demise on 14th May 1973, the torch of 'Kalaimagal Kalvi Nilayam' was handed over to Selvi. May Kamala Muthiah B.A.BT, who was appointed as Headmistress by Ayyah on 5th June 1955. Selvi. Muthiah, a strict disciplinarian and lady of courage and calibre, through her indefatigable efforts and a spirit of dedication to the Institution, stood shoulder to shoulder with Ayya in shaping the Institution into a place of pilgrimage to the lay-man interested in good and meaningful education. It was she, who upgraded and built up the Institution into Higher Secondary in 1985 and Kalaimagal Matriculation School for Girls in June, 1990. She received State Award for Best teachers on 5th Sep 1970 and National Award from the President on 5th Sep 1985 in New Delhi.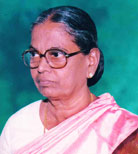 After her demise on 30th Aug 1994, as per her wish, Tmt. S. Mangalavathy, B.A., B.T. who was serving the Institution from June 1964, retired from service as Headmistress of Kalaimagal Higher Secondary School in May, 1993, being a member of the Trust from 1972, took up the charge of Secretary & Managing Trustee of the Institution from 22nd July 1994 as per the resolution of the Trust. She too is a recipient of State Award for Best Teachers in September 1986 and National Award from the President in September 1992.